One- after Japan's defeat in WWII, many Japanese civilian settlers in China were abandoned by their government and not repatriated. They'd basically been enticed to settle in Manchuria to farm for Japan, but ended up in detention centers, where many of them died. This orphaned thousands of children who had no choice but to learn Chinese and assimilate as best they could.
You can imagine after the events of the 30s and 40s their lives, despite having been children at the time, were not very easy. As a child, one plaintiff was nicknamed "short Japanese devil" by the other children at her school.
Many have since returned to Japan, where they continue to live harsh lives. Recently, a group of these orphans sued the government for denying them their basic rights under the Japanese constitution, a lawsuit settled in favor of 61 out of 65 plaintiffs.
Here's the news story about it, about abandoned
Japanese war orphans suing the government
. It's heartbreaking. The Japanese Imperial government was responsible not only for crimes against the people of China and Korea and other places they conquered, but also against its own people... especially the children who suffered in the war.
Now they are old, doing menial jobs, living off welfare. We remain in the shadow of those events even 60 years later, all of us... those who can remember the war personally and those of us who only know it from books and movies.
Also...

The hotel where the Beatles stayed when they first came to Japan has closed
. The Capitol Tokyu Hotel which was a Hilton hotel until 1984. Now it's giving way as Tokyo destroys more and more of its historical buildings in favor of new development.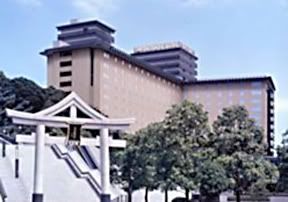 The Beatles, Michael Jackson and Eric Clapton
among others stayed here, but I never got
the chance!
This is a huge problem. After the Meiji Restoration, Japan knocked down a lot of its Edo period fortresses, costing itself hundreds of years of cultural treasures. WWII took a lot of others, and buildings more fragile but of no less importance.
Now there are concrete castle replicas here and there, but they're pretty paltry compared to the surviving originals, even the few smaller ones. Imagine the tourist largesse if supposedly forward-thinking officials of the time hadn't been so shortsighted.
Well, it's happening again. Down with the old, up with the new. But what's lost can never be replaced.