The Hamamatsu Matsuri (festival) is held early in May, during Golden Week. It lasts 3 nights, and features fighting kites at the Nakatajima Dunes. The first year I was in Japan during this festival, we had nothing but rain and chilly weather so all we did was eat international food down at the Act City plaza.
The next year...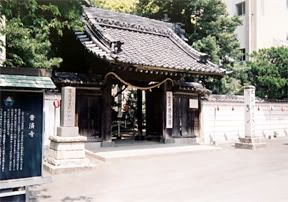 Perfect weather. Sunny and warm all day and cool at night. This photo has nothing to do with the festival. It's the temple gate near my old apartment. Instead of a temple there's a cooking school on the right and a kindergarten behind the gate itself, where the original temple was before one of Tokugawa Ieyasu's battles wiped it out.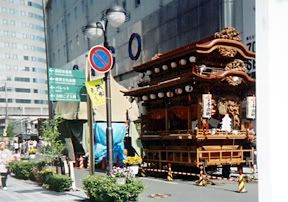 This is a spy camera shot of one of the festival floats, called yatai in Nihongo. Elaborately carved from wood, and pulled by groups of people wearing special costumes, these wagons are the centerpiece of the festival parade.
I didn't get to go to the kite battles at the beach because of work, but the first night of the festival fell on my first night off, so I got to fully indulge myself in those festivities.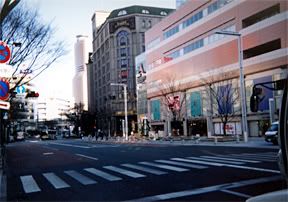 This is the main parade street. During the Hamamatsu Matsuri, this road is closed to traffic, and viewing benches are placed along the sidewalk. Food vendors set up tents selling yakitori and sweets and unimaginable delights. Well, not so much unimaginable as unnameable here, because I have no idea what most of them are called.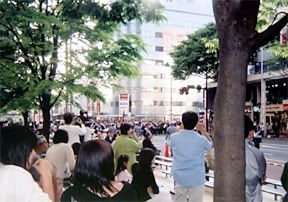 Here's how it starts. This is around 5pm or so, first night of the festival. The paraders are special marching corps from all the various neighborhoods in Hamamatsu. They wear these blue tunics with special leggings and tabi... you know, those "ninja" shoes with the toe notch. On their backs they wear the neighborhood crest, many of which are red and white, with kanji or designy disks. Their job is to make a lot of noise, and to help them accomplish this, they bang drums and play flutes and bugles.
The coolest part is the practice runs. In the month or so leading up to the Hamamatsu Matsuri, various marching corps make dry runs in full regalia. I'm not sure but they probably also do a bit of drinking. I know this much- for the real thing they definitely do a lot of drinking. Noise making is more efficient when one is soused.
I think in the old days, these groups were men only but now there are a lot of women involved. They wear the same costumes as the men. The costumes, which include a wrap around tunic and special matching pants, are called
happi
.
And there they are! Look at 'em go! This looks like so much fun to me, but in true Japanese-style, it also represents a commitment. Once you join the marchers, you are in it for the long haul... the full three days and nights of merrymaking and heavy drinking. I saw some participants on the third night who were completely wiped out. They looked half-dead, but also well satisfied.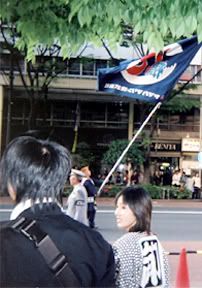 Most of the groups are led by flag bearers. Some of these flags are really long and trail to the ground. The most intense groups have multiple flagbearers who work out some twirling choreography that's really impressive. As are their sheepish smiles when they screw up. It's all for fun, but it's also serious business, man!
The woman in the foreground is a marcher for a different group. Because I don't know the starting point or organization of the parade, I'm not sure why she had time to watch, but I'm glad she enjoyed the show. She's wearing a happi with kanji on the back.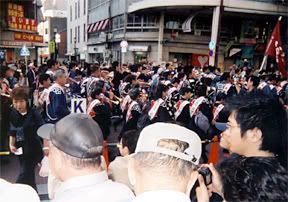 Here's another marching group. The noise was incredible at this point, and I can still hear the massed bugles echoing as I write this almost a year later. This is probably because the supermarkets started playing nonstop loops of the marching songs two weeks before the festival and it became imprinted on my brain along with the entire Beatles song catalog.
Special note- about this time (6pm), I started drinking. Practically everyone else was, so I thought I should give it a try and show both the Japanese and the gaijin contingent what we Athens peeps can do in the proper environment. The Safari Bar van was set up in front of Zaza, and I made that my headquarters... since I was first there and first to drink that evening, I had a prime seat at one of the tables where I could watch the parade and wait for my friends to show up and join me.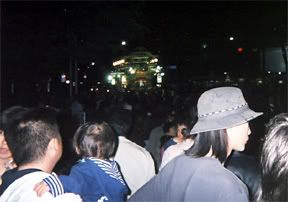 As night set in, the best part of the parade arrived- the wooden yatai. Lit with lanterns... they approached in the thunderous din like mysterious barges from the spirit world...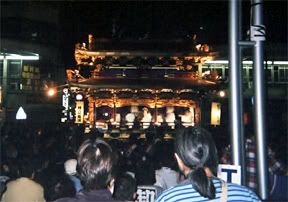 Inside were women in kimono, playing
shamisen
or other traditional Japanese instruments.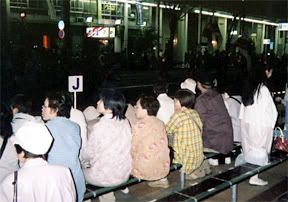 Aren't these people beautiful? They're not stylie girls or any particular group of funky thrillers; they're just regular people in casual clothes. The heartland group of any country, the humble, plain folk without any agenda other than doing their best, and what's right. I love them.
These guys are pulling the yatai with long, heavy ropes. A labor of love.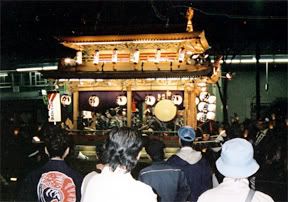 Here's another view of one of the yatai. You can see the women inside, playing their instruments. The guy on the left with his back to us is another marcher, and you can see the elaborate crest of his neighborhood printed on his happi.
Beer me! In the foreground, you can see the front of the Safari Bar. Behind it, a Japanese food vendor. Australian-style drunkery complete with kebabs (cooked by a friendly Turk who now owns No Name Bar) meets traditional Japanese matsuri food.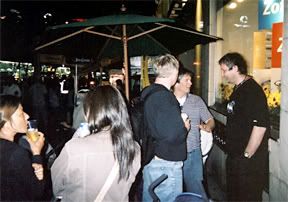 Some friends of mine- the foreigner contingent. These are some really nice guys talking about I don't know what. I was very drunk by this point, I'm sure.
This was one of the most epic nights of my Nova career and my life in Japan up to that point. I'd just started seeing this adorable Nova student and somehow, I managed to find her in the crowd. We went back to Safari Bar (which was a stupid idea), I bought her a drink, found out she really liked me and was jealous of my friendship with another girl... then someone told me another group of Nova teachers were approaching, so we had to duck around the corner to hide.
In the entryway to Zaza, we sat on the steps and made plans and talked relationship.
At that moment, I felt like the coolest guy in the world. The festival was rocking, a girl so cute it was physically painful sometimes just to look at her was crazy into me, and I was happy drunk and expansive. Unfortunately, this led to more drinking... beer after beer... until 1am, and the worst hangover I've had in years the next day. It was worth it. I soared on the afterglow of Cute Stylie Girl for days after.
Of course roughly a week later, she did me wrong. We haven't spoken since.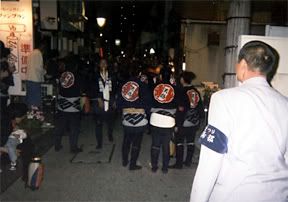 After hours, down a bar-lined alley. The marchers are having an after-party, and so were we foreigners. I hooked up with the rest of the Nova teachers and had a few more drinks. One teacher played his guitar, we all posed for stupid drunk photos... and then the marching group gave us free alcohol and food.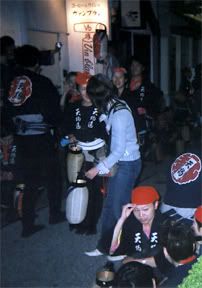 Check them out- they're beat! They're wearing exhausted smiles, yet they still have two more nights of carrying on. As for me, I was still feeling chipper and going strong, but I couldn't get off the mat for the second night. I learned a hard lesson in pacing one's drunk self.
Feeling I'd accomplished all I'd set out to do, for the third night I found myself a spot at Ohgiya and drank a single beer. Personal and family tragedies were mere days away, but I had no idea at that point. All I knew was the Hamamatsu Festival was a highlight of my time in Japan.
If you get a chance to visit, I highly recommend you come during Golden Week to participate in this festival. It may not be the biggest or the best in Japan, but it's definitely 3 nights of fun. This year I'll be off that entire week and I'll be able to go down to the Nakatajima Dunes to see the kite battles.
In the meantime, imagine this- Chuck Mancuso let loose in that atmosphere of nearly anything goes. I think Hunter S. Thompson would be traumatized.