Hmm... sounds like a title for an adventure movie. Get Steven and George on the phone, and have the aerodrome ready my private jet!
These types of press conferences are common here. In this case, a group of actresses are promoting
Kisarazu Cat's Eye
, a Japanese tv drama about 6 ex-high school baseball players who are drawn into their dying friend's scheme to become cat burglars...
It stars a bunch of people I don't know and Kuriyama Chiaki.
Here's a pic from the show. It has nothing to do with cat burglary, high school baseball or cancer. I think Kuriyama Chiaki plays some sort of JROTC member in it. All the photos I've seen of her from the show depict her in miltary garb: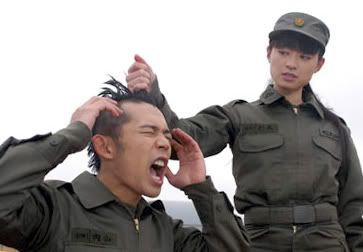 And these are from the press conference: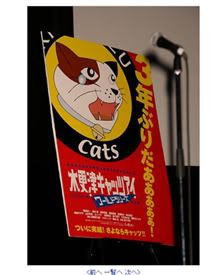 I'm not sure why the cat in the logo is crying. I wish I could read Japanese.
Here they come, stylish and beautiful. And even they're not the main characters of the drama. In fact, Kuriyama Chiaki is barely in it at all, judging from the shashinshu I looked at recently. Shashinshu are glossy, expensive photobooks that accompany almost every film or popular tv drama in Japan.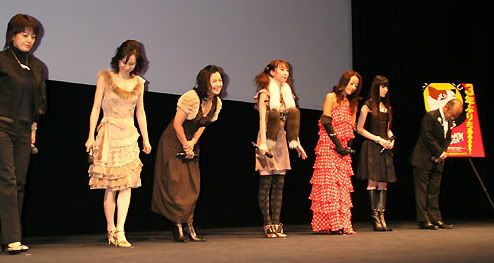 They greet the audience. This format is pretty common, I think. Walk out onto a stage, someone makes a speech and explains who everyone is and what they're doing there, then each person gets to talk to the crowd and maybe answer some questions.
There's Kuriyama Chiaki in the black boots to the right... she's someone you may recognize from her role as crazed schoolgirl killer/bodyguard GoGo Yubari in Quentin Tarantino's deliriously ridiculous
Kill Bill Vol. 1
.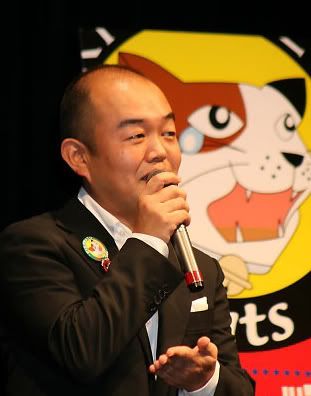 But first, meet this guy and his shiny bald head! He's your interlocutor for the evening.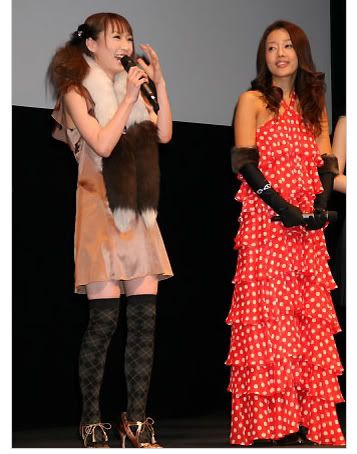 I don't know who she is, but she really seemed to be enjoying herself. She's genki. Genki means "healthy," but it can also mean "energetic and full of personality."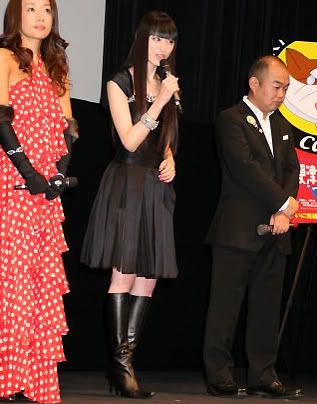 Here's my favorite person in the world lately, Kuriyama Chiaki. According to her biography on the Internet Movie Database, she once watched the movie
Se7en
... oh, I forget. But it was more times in one day than you could! Tarantino keeps the bar set from
Kill Bill Vol. 1
at his home- you know, where Kuriyama Chiaki as GoGo stabs a businessman to death- in case she's ever in LA with her friends and wants to hang out.
That's a bit creepy. That's a lot creepy.
Did you know the businessman wasn't asking GoGo about cars when he asked her if she liked Ferraris? While the super-fast Ferrari is well-known around the world (there's a Ferrari/Porsche dealership within walking distance of my apartment and I love to go windowshopping there), the word "ferrari" has a slang meaning here in Nihon that's kind of interesting.
When you learn what it is, you'll understand their conversation better and why she stabbed him.
There she is, up close! She's dramatic in black. She has this Morticia Addams appeal sometimes.
Genki Gal in full effect. Someone said something that really amused her. I know absolutely nothing about her, but she strikes me as the kind of person who's always on the edge of laughter. I like that a lot.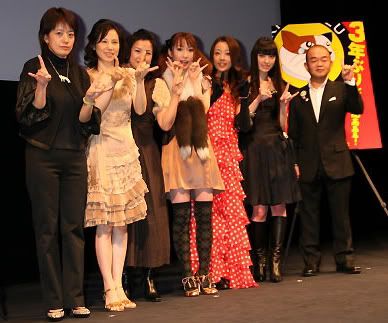 Devil horns instead of peace signs. Why? I don't know. Maybe it was Kuriyama Chiaki's idea. Maybe it'll catch on. Really, flashing the peace sign in Japan is the universal "I'm being photographed" symbol.
So much so, I was sending a text message with my cellphone in my classroom one day when this girl walked in and instantly- as a joke- jumped into the peace sign pose because it looked like I was photographing anyone coming through the door.
Go here for more info on
Kisarazu Cat's Eye
! It's all in Japanese!