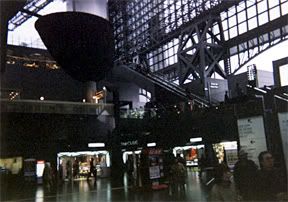 Welcome to Kyoto. It's December 28, 2004. We've arrived by train and time machine at Kyoto Station, where we find ourselves inside the Cube, a huge ultra-modern shopping complex. More than a mall, less than a city, the Cube is a glistening steel and glass art object, full of boutiques and shops and restaurants and art galleries, and a luxury hotel. The first time I passed through here was October 2003, it was raining and I had a terrible cold.
This time, I was with a close friend, who I will call CMG in order to preserve at least some of her privacy. It was the first week of my Nova winter holiday. And, just like on my first visit to Kyoto, it was raining. But at least this time I was healthy.
This was our room at the ryokan. A ryokan is a traditional Japanese inn, with tatami mats and comfortable futon to sleep on. CMG got us a great deal for one night... it was less than 50 bucks, which is incredibly cheap for Japan and even more so for Kyoto. Plus we had a great location, just a mile or so from Club Metro, which is where we were headed.
You can see a futon folded up, and the one piece of furniture in the room, the low table where we ate while watching that little tv and generally clowning around and making each other laugh. While our room had a small toilet room and a modern sink and mirror fixture near the door (like a Holiday Inn or something similar), we had to shower downstairs in the basement, in the public showers.
Which was actually nice. We were down there so late, we had the whole place to ourselves. I showered in a steamy room with at least 10 shower heads, free to walk around or dunk myself in the large, square tile tub in the center.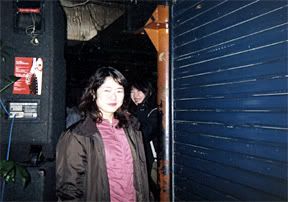 Outside Club Metro, Kyoto. Actually, inside a building but outside the club. We walked from the ryokan, across a river (twice!), lights twinkling in the background, and ate a quick snack in the park near the club.
You don't really get a feel for the club itself from this picture. Inside the club (which was a lot like any venue in Athens or wherever indie bands rock out), it was just me as the sole gaijin and hundreds of hip young Japanese wearing the cool indie rock threads you'd expect, only theirs fit better and were cleaner than the dorks back home. The interior had the standard bar in the rear, stage in the front... almost the same layout as the Caledonia back in Athens, and roughly the same size.
Evidently, Club Metro has a wide-open policy in terms of music. They might have djs spinning one night, or drag queens, or on a night like this one, a rock show. I hope I get to go back there again.
We saw 5 amazing bands, and I got to talk to the guys in one of them. Wish I knew their name! CMG has told me a thousand times and I keep forgetting. They came dressed like the Ramones, in totally accurate mid-70s punk gear- Prince Valiant mop tops, black leather motorcycle jackets, striped tees, tight black jeans and well-worn high top Chucks. But they performed tricked out like a hip 60s combo, with matching red suit jackets and skinny black ties.
And they were the openers! The next band had a Kurt Cobain-style lead who climbed along a railing and humped his guitar against a support beam, then threw it on the stage and stomped on it. Another band wore scarlet British army coats and could barely get through a verse of any of their songs before the singer would spot a lovely young girl in the crowd, and either faint or jump off stage to present her with a rose. The last band, friends of CMG, wore pinstripe mod suits like mid-60s Rolling Stones, but played fluffy pop-rock powered by some heavy guitars.
Here's some cultural info- when you buy a ticket for a show in Japan, you often get a second ticket for a free drink. Which is great, because the show tickets themselves can be pricey. Like 30 bucks for an underground band. Club Metro is a "live house," and shows are just called "lives."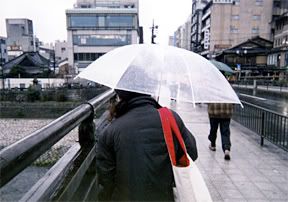 The next morning we checked out and went sight-seeing. Kyoto was wet and chilly. CMG is walking along holding a 105 yen umbrella.
Here I am, looking cool and sexy. Kyoto is surrounded by mountains in all directions, and being the traditional cultural place it is, there are ordinances about how tall the buildings can be, so you get these amazing vistas everywhere you look. Kyoto feels very Japanese to me and it's like being in a novel.
This is a pen-and-ink/watercolor print depicting a famous American blockbuster. I took this photo for Frank... it's near the entrance of this massive shopping arcade we visited. There's a movie theater and a wall-of-fame featuring images from various movies, the rest of which I've forgotten.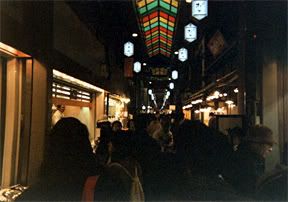 This is the shopping arcade. It stretches forever under those Tiffanyish colored glass panels, and it was packed with shoppers. CMG told me they were preparing for New Year's, which is a very important holiday for families in Japan, a lot like Christmas in the States.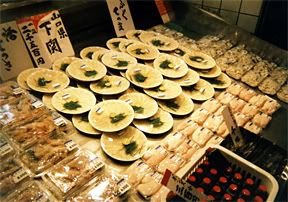 And this is what people were buying for New Year's- food! These are platters of fugu, the famous poison blowfish sushi. These are expensive. You have to be willing to pay your yen for the .00000000001% chance of dying. All along this arcade were food shops, and shoppers buying holiday feasts for their families.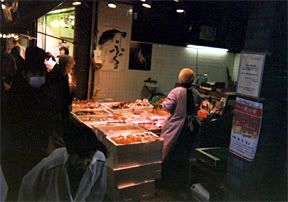 Most of the shops looked like this, tiny family-run affairs. They had anything you could want, provided it's Japanese. They probably had lots of Western foods, too but I can see those at Publix, so screw 'em! I was fascinated by all the varieties of things. Mostly seafood, of course.
This delighted me! I've always loved miso soup. And this is yellow miso! It comes in these big barrels and the shopkeepers portion it out. You can see some take-home containers, but some shops put it in plastic bags. They troweled it in with big spatulas. Oh yeah, at first I thought this was some kind of creamery butter but CMG set me straight.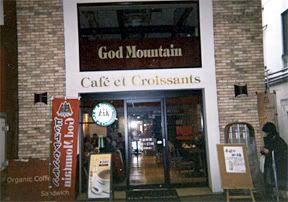 The coffee here is said to have miraculous powers 6 days out of the week, but to rest on the 7th.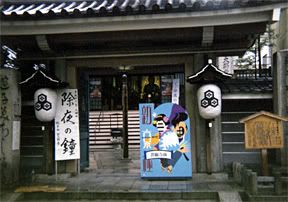 This shrine was actually part of the shopping arcade. And you can see where you can pose as a samurai or a beautiful lady of Kyoto for photographs, or live performances.
This is an unimpressive shot of a rainy, dreary Kyoto. It's one of the few Japanese cities that didn't get wiped off the map by B-29s, so it has a very old-fashioned look to it. Early 20th century in places... and centuries older in others.
Even the McDonald's have to be subdued. Instead of red and gold, they use brown and gold and there are no towering arches proclaiming billions poisoned... er... served. The first Wendy's I saw in Japan, however, I saw here in Kyoto.
So these photos don't do Kyoto justice. It's not even so much what you see there, although you can see some gorgeous temples and miraculous visions. It's the atmosphere. Kyoto has a sense of place and a timeless quality unlike Tokyo or Osaka. As a Westerner, I felt a hush there, almost like being in a temple.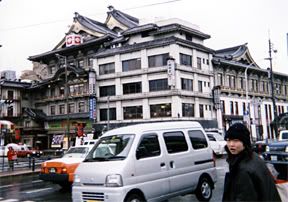 Crossing the street, CMG looking back at me, probably thinking what a dumbass I am. She told me all about this building but I've forgotten all of it. She went to college in Kyoto, and I can tell the city is still in her heart.
A lot of Kyoto was built in the 1920s, and many buildings (like this one) have a mix of European and Japanese features.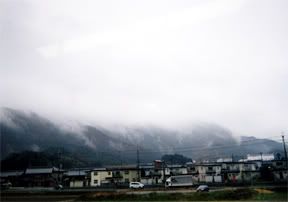 On the train back to Hamamatsu. It's a 4-hour journey with a couple of train-changes, unless you take the shinkansen. We took the local train, which was a great idea because I got to see more of Japan's countryside in detail than on any other trip I've made.
Believe it or not, there's a mountain hidden in that mist. This isn't too far from Sekigahara, where on October 21, 1600, Tokugawa Ieyasu met his enemies' armies with his own, whupped they asses and became shogun. The Tokugawas ruled Japan for about 250 years after that.
We'd no sooner gotten down out of the mountains than the sun came out and took away all the gloom. It was still cold and damp outside, but we had heated seats and a laughing conversation. Whenever I travel I always have a sense of wonder about what I'm seeing... I can't stop looking around and taking it all in. I hope I never become jaded.
I've spent so much time in Tokyo, I often have to be reminded of Kyoto. But I'd love to spend a few days there. The first time I went we were barnstorming across Japan, doing too much in too little time. Plus I had that horrible cold. This time I also only got a day there and the weather was miserable. CMG and I made it a fun trip, but there's so much more to see there.
I definitely want to go back, though. Sometime when I have a few days of nice weather.