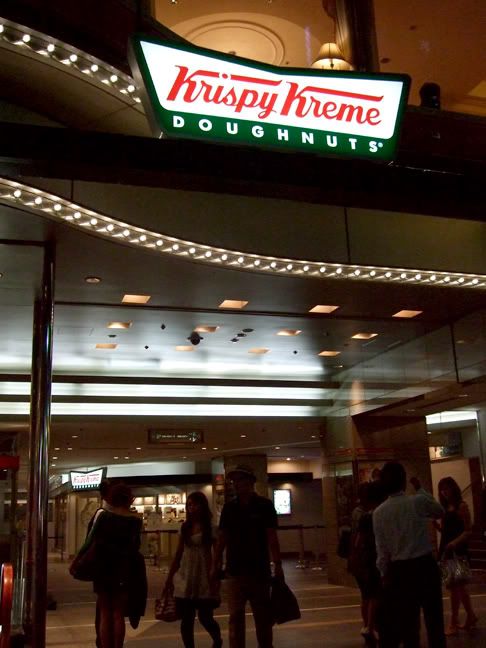 Imagine my surprise to find Krispy Kreme has established yet another outpost in its War of Sweetness. Which could be either a war against sweetness or a war supporting sweetness, I guess. Rest assured, I mean the latter.
This Krispy Kreme restaurant is just a short walk of maybe 4 minutes from Shibuya Station's Hachiko exit. Just keep Shibuya's cylindrical tower of girly-youth fashion, 109, on your right as you walk up a gentle hill. Eventually you'll smell doughnuts.
It's actually underneath a large building. Unlike the Krispy Kreme I usually visit, which is in Shinjuku, just south of the station, this restaurant has a dining area with lots of tables. On this particular Saturday night at the end of a steamy August, young couples occupied most of those tables. I walked right in-- the hot doughnut light was out, unfortunately-- ordered my three doughnuts and sat at a long bar at the window.
This place looks better with people in front, don't you think?
I'm not sure what it's called in Japanese, but in English most people here refer to it as simply "Krispy Doughnuts." I have no idea why the "Kreme" part gets dropped. Maybe there's some assonance with Mister Donut, which is probably Japan's favorite between these two giants of deliciousness. Krispy Doughnuts' fluffy offerings tend to run a bit sweeter than most Japanese enjoy their snack treats. But that hasn't stopped Krispy Kreme's rapid proliferation in Tokyo, not one little bit!