I went to Tokyo over the weekend to see Melt-Banana, one of my favorite bands. I've seen them four times now-- once in America and three times in Japan. This is the second time I've seen them perform at Shibuya O-Nest, a small venue on the sixth floor. You go up the world's worst elevator, a cramped, creaking funhouse-style ride that whispers of imminent death to find yourself in a sleek bar. To get to the actual performance space you have to go down a spiral staircase. And then you're in a surprisingly small room, a lovely intimate place with wooden floors and matched black metal railings marking the the pit; no matter where you stand, you're close to the stage.
Melt-Banana headlined a four-act line-up.
Here's the weird thing-- I think some kind of European celebrity or actor or model attended the preliminaries but skipped out on the main act. On my way across the famous Shibuya scramble in a flood of people suddenly there appeared some photographers with some serious camera equipment and in the center of the action, a young woman with arms outstretched, standing above the crowd in a seeming act of levitation. It turned out she was standing on a short steel stepladder with a spotter behind her. Halfway through the second act, I realized she was right there beside me in O-Nest with a group of middle-aged men who seemed very out of place. She was a pretty, freckle-faced young woman with her dark hair pulled back in a simple ponytail and a huge toothy grin and she was rocking out to the solo performer on stage while a camera team videotaped her.
Was the vaguely Jim Morrison-looking avant-garde musician on stage somehow related to her? Boyfriend? Husband? Were the middle aged men making a documentary about someone we should all know and her exciting visit to the modern sound palace that is the O-East/West/Nest complex?
I'm going to have to look into this!
The crowd size proved a mixed blessing. It seemed pretty sparse compared to the other Melt-Banana shows I've attended. Those were sold out and there was no way to approach the stage without taking a serious ass-whipping from the writhing crowd. Even the show where they opened for Red Krayola in this same venue back in 2005 was packed, if sedate. On this night a few guys in dreadlocks swirled about in front of the stage and also this particular guy with a round, shaved head who appeared at one point to be wearing diapers. So perhaps it's true; unlike a lot of top J-Pop acts, our little Melt-Banana is more famous abroad than at home here in Japan.
Otherwise you'd expect the place to be a sweaty mob of moshing loonies. So while I felt more secure and was able to take some decent photographs (considering my lack of photo-taking talent, that is), I felt a bit let-down by the turn out.
If Melt-Banana felt any disappointment, they didn't show it. They launched into another of their patented fierce sonic attacks, shredding the night with their unique sounds.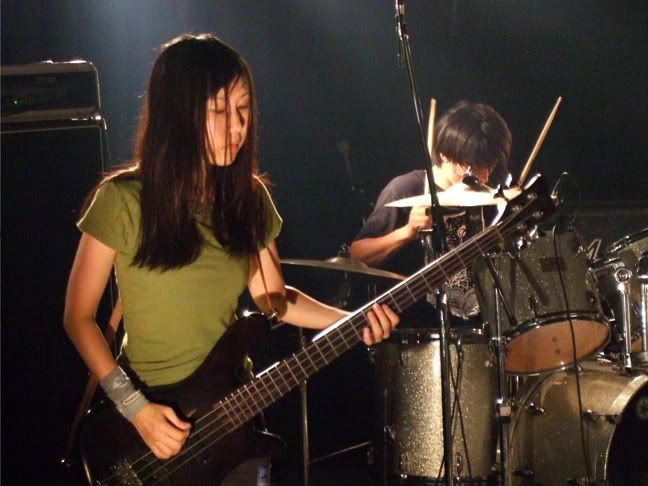 It was an exhausting trip, paid for with leg soreness and a bleeding blister on one of my toes, but it was worth it. It's always worth it to bask in the noise-glory that is Melt-Banana.
My biggest frustration was in finding O-Nest. I didn't get as lost as I did in 2005, but I spent more time wandering the back alleys of
Shibuya's Love Hotel Hill
than I felt necessary. And I'd do it again. And again!