Down at the station on a hazy, steamy July day, these junior high kids were tuning up for a performance:
Dads and moms prepared to videotape every musical moment of their kids' orchestral movements in the afternoon: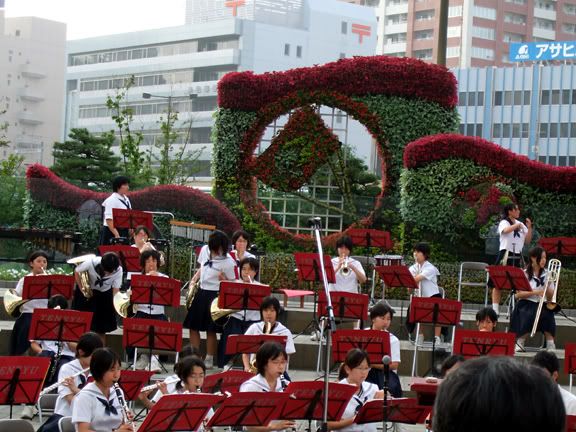 In the meantime, the station was bustling with festival-goers, because the massive Bentenjima Hanabi Matsuri was on and the weather was conducive to eating lots of yakitori and takoyaki and watching explosions in the night sky:
As crowded and hectic as things were, the station staff had it all pretty much under control. There were special ropes out guiding people in a snaking line and it only took us about 5 minutes to buy my ticket. My smarter, prettier friend had already purchased a train pass a while back. We had to stand on the train, though.
If you look at this next photo, you'll see to the left the community center where I teach on Wednesday afternoons. This bridge is the famous Bentenjima Singing Bridge. It actually sings to you as you cross it on a windy day. The song is pretty monotonous, with lyrics consisting only of "Ooooooooo..." but still:
Below, people gathered in the main festival area:
In the waters of Lake Hamana, you can see the big red torii (temple gate). And boats lying at anchor in anticipation of the pyrotechnics.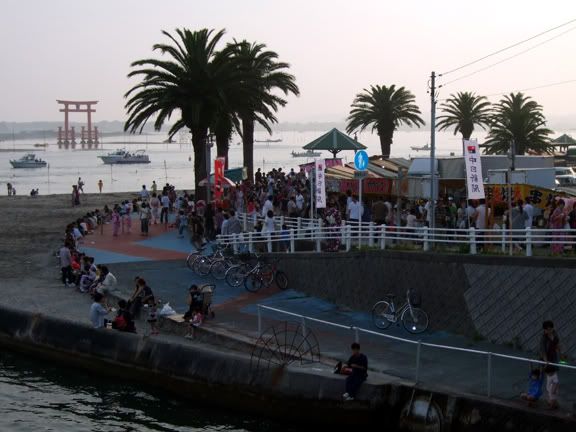 You don't see a lot of people swimming here, although there's a nice hotel right up against the water. Bentenkan... since 1998.
Here's a better view of the shore, with the torii:
And another one:
The square-ish building in the foreground was just built recently. Behind it is Bentenkan and some apartments. Those places have amazing views almost daily. But the view on this night would be extra-spectacular: