Holy dog nuts... DOUGHNUTS! See what you can learn from Peter Payne at J-List?
There's a Krispy Kreme open on the south side of Shinjuku Station in Tokyo
: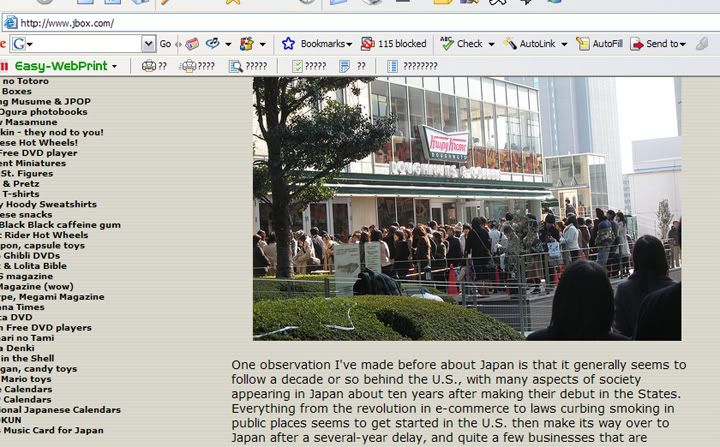 Click on the photo to see a massive line. According to Peter, some of these people waited for 2 hours to get their doughnuts, and salarypeople were carrying away 3 dozen or more for their coworkers. That does my heart good. Maybe not in terms of cholesterol or trans-fats. But my soul heart, the one I love with. I certainly didn't see this when I was there over New Year's, so maybe it's even new than 2007 is...
Hopefully, we'll get on in Hamamatsu. Our Subway restaurant is closed now, just an empty room with papered-over windows. And Mr. Doughnuts is good, but it just doesn't fill the doughnut need like Krispy Kreme. To me, Krispy Kreme simply IS doughnuts. One of the negatives about living in Athens was that most people I knew there were Dunkin' Doughnuts fans, and the only Krispy Kreme was way out on the Atlanta Highway, near the mall.
But that seems less of an inconvenience with the trip I'm faced with now... because I'm planning my next Toyko junket to include an overnight stay in Shinjuku and a trip to Krispy Kreme to eat so many doughnuts I vomit!