On my triumphant return to Japan in May, 2006, I spent a few days recuperating from jet lag in Tokyo... which is probably my favorite destination here. It's a place where I can cut loose, a big megalopolis that's not too difficult to get around in if you pay attention to the English signage.
On my last few trips, I've made a concerted effort to visit places outside the Shinjuku/Harajuku/Shibuya triangle I spend most of my time exploring. For example...
Asakusa.
Asakusa is home to three things: the oldest bar in Japan, the Asahi Building and
Sensoji, otherwise known as the Asakusa Kannon Temple
. Which was built in 645, so it's a bit older than Japan's oldest bar. And I visited 2 out of three of these places.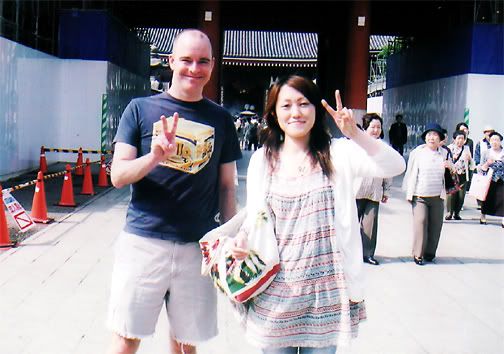 This is my friend and me at the main gate of Sensoji. I think the orange cones to the left have a special ceremonial significance that doesn't translate well cross-culturally. Sensoji is a large temple complex surrounded by small shopping streets with very cool little shops. There are semi-hidden speakers that play traditional Japanese music, so it's a little like being at Edoland in Walt Disney World's Epcot Center, only much more authentic.
This is me in front of the temple proper. I'm giving the two-finger salute that universally signifies "peace," but in Japan means, "I'm having my photo taken."
This is the two of us in front of the temple, which is really amazing. I guess growing up in America and being a huge movie buff, I tend to think of things in terms of film sets. This is one impressive place for someone like me, but the cinematic quality is enhanced by the careful grooming of your experience there with the small shops and canned music.

I was reminded of the quote from Patton where he said something to the effect Morocco being equal parts Bible and Hollywood.

We paid some yen for good luck and got our fortunes from some wooden drawers. My friend got a mediocre prediction for the coming year, and was amazed when I drew the best possible fortune.